Visit the
CFA Southern Region
Market Place


Cat-Chi Cats Bobbin' Works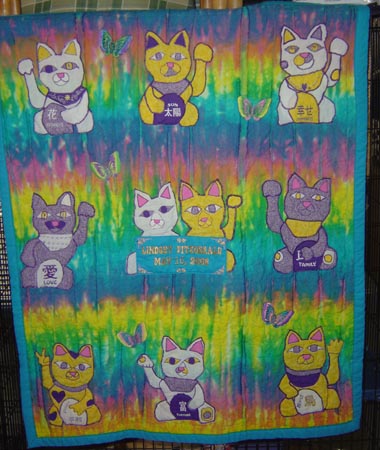 Bobbin' Works seemed like the perfect name for me since I am into the bobtails ... bobtails - bobbins... I thought it was funny anyway.
I have started a home based Sewing, and Custom Embroidery Service since I retired from Verizon in November of 2005. I really do enjoy sewing, and creating things more than pulling wire, and installing phones!
I make custom Quilts for any application. Wall hanging, cribs, or any size bed. I believe I can applique or embroider any theme you choose.
I have a growing Embroidery database, plus I can create embroideries from your own pictures!
Here is a picture of the Maneki Neko Crib quilt I made for my new Granddaughter Lindsey. I'm glad I had the presence of mind to photograph it!
I need to take some more pictures of my creations.
I will also Embroider clothes for you. I can make your show curtains or sturdy cages unique, touting your Cattery name or logo, or perhaps a picture of your cat is what you want. I make cat beds in all shapes and sizes, those too can be personalized. You name it, I think I can embellish it if I can get it in a hoop. I have also created some purses and bags, which seem to big a big hit. I also create vests and other garments on which to embroider on. Our imaginations, or dreams can be realized in this medium!
My Embroidery data base includes things like:
Rocky and Bullwinkle™
Babe in the City™
Loralie Cat Ladies
Country Cats - cats baking, hanging clothes, sweeping, strolling, ironing, gardening, balls of yarn\
Woody Woodpecker™ - His Logo, Woody skiing, water skiing, surfing, racing a car, and riding a bike.
Japanese Kanji - Happiness, Fortune, Bird, Peace are some of the words I can remember in that database. There were many, many more.
Specific Cat Breeds: Japanese Bobtail (of course! Designs were made of my cats) Manx, Siamese, Maine Coon Cat, Persians, British Shorthairs, just to name a few. I hope to get all of the breeds, especially for those hard, to find or minority breeds. I'm sure many other breeders, or cat owners, have just as difficult time as I do finding something with their breed of choice on it. It is nearly impossible to find a JBT on anything!
Other Cats - not breed specific, angel cats, ally cats, ally cat scenes, cartoon cats, "Red work" cats, Egyptian cat
Fonts - Way too many to list! But I have all styles from whimsy, to serious.
Other Animals - Moose, Mice, Bats, Dogs, Horses, Jaguars, Lions, Tigers, and Bears, oh my. Otters and many other creatures. I love animals so I will be working on expanding my database in this catagory as well.
Fantasy - Fairies, gnomes, Leprechauns, and dragons.
Floral and Paisley Patterns - Tulips, roses, peonies, daisies, sunflowers, lillies. I'm sure there are some I can't think of right now.
Nursery Type Patterns - Teddy bears, bows, blocks and other baby like things.
Sport Type Designs - Golf, tennis, baseball.
Dinosaurs - I have a few of these.
Things to do with Eating - Strawberries, apples, pineapples, ice cream, and many other items.
Buildings - Cottages, light houses, log cabin, toadstool house all come to mind
All registered trademarks or trademarks are property of their respective owners.