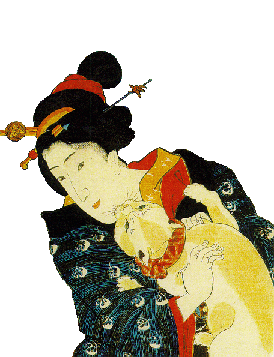 A Short History of the Japanese Bobtail
Cats with curves and kinks in their long tails originated in India and Siam. Centuries later, when traders brought these cats to China, the tails of the most desired cats had become small and curved. The Japanese Bobtails arrived in Japan about a thousand years ago. A diplomatic delegation from China brought the first five cats as a gift to the Japanese Emperor Ichijo in his palace at Kyoto.

Until the seventeenth century, Japanese Bobtails were treasured by the aristocracy. Under a 1601 edict forbidding the ownership of cats, Japanese Bobtails were put into service to guard granaries and silkworm cacoons. While reduced to the status of street cats, Japanese Bobtails were embraced by artisans, and then by the masses. After World War II, families of U.S. servicemen stationed in Japan took these cats into their homes.

Mrs. Betty O'Brien, who judged the first Cat Fanciers' Association (CFA) show in Japan in 1968, was deeply impressed by a longhaired mi-ke owned by Mrs. Kiyoko Tanaka which was exhibited at the show. Also that year, the late Elizabeth Freret imported the first three Japanese Bobtails to the United States from Japan. In 1971 they were given provisional status in the CFA and were accepted for championship competition in 1976. In 1993 the longhair Japanese Bobtail was accepted by CFA for championship competition.